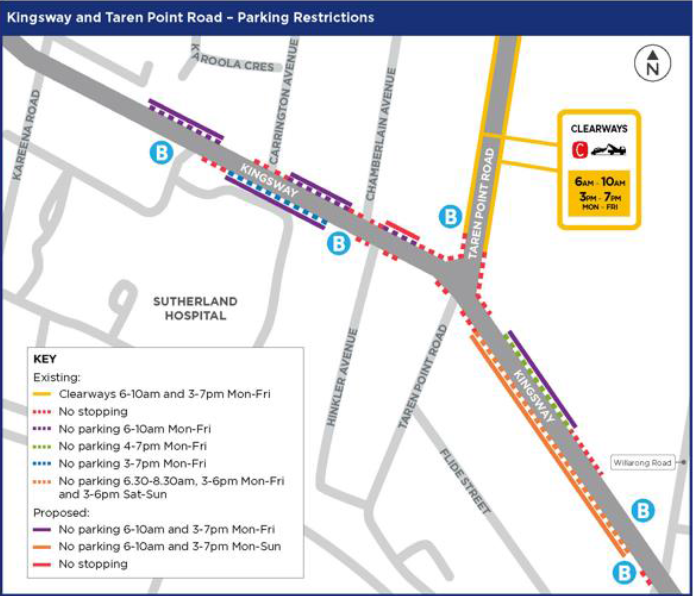 The Sutherland Shire community is being invited to have a say on plans to improve pedestrian safety and reduce travel time for motorists around the intersection of Kingsway and Taren Point Road at Caringbah.
The proposal is expected to reduce the number of rear end crashes at the busy intersection, and improve efficiency by making more lanes available, especially during the busy weekday peaks and for northbound traffic on weekends during peak times.
The proposed changes include restricting parking in the morning and afternoon peak hours, from 6am to 10am and 3pm and 7pm on weekdays. As part of these changes, six parking spaces would also be removed on Kingsway between Taren Point Road and Chamberlain Avenue to help deliver consistent driving conditions for motorists.
The parking changes are not expected to have a major impact on local residential parking as many residents in the area have off-street parking.
Residents and the local community are invited to get in touch with any questions or concerns. All feedback will be considered and Roads and Maritime will continue to keep the community informed as the proposal progresses.
The community can provide feedback to the project team by Friday 3 May 2019 via email at NetworkSydney.south@rms.nsw.gov.au, by phone on 0429 127 648 or in writing to PO Box 973 Parramatta NSW 2124.
For further information refer to the attached map.